DiNapoli urges New Yorkers to spend holiday gift cards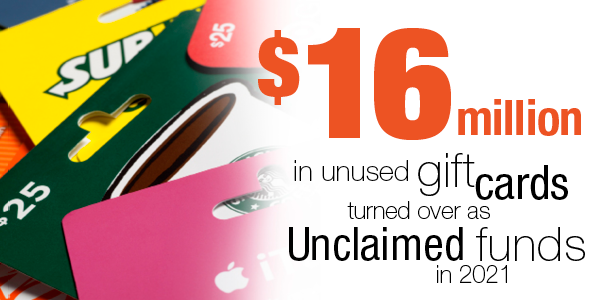 New York State Comptroller Thomas P. DiNapoli is urging New Yorkers to spend the gift cards they received this holiday season on a timely basis. Otherwise, the money could eventually be returned to the Unclaimed Funds Office. Over the past seven years, the amount returned to the DiNapoli office in the form of unused gift cards has risen sharply from $ 5.8 million in 2014 to $ 16 million in 2021.
"Misplacing your gift cards after the holiday season is easy to do," said DiNapoli. "Don't wait too long to spend your gift cards to avoid possible inactivity fees or having the money returned to my office as a lost fund."
After five years of inactivity, money from unused gift cards issued by New York businesses is returned to the Unclaimed Funds Office as abandoned property.
DiNapoli urges recipients to read the fine print for details on the fees and expiration dates of the cards they have received and to register the card with the retailer. Under the Federal Credit Card Liability and Disclosure Act, 2009, many types of gift cards sold after August 22, 2010 are not permitted to charge an inactivity fee, unless the card does not. 'has been inactive for at least 12 months. Gift cards cannot expire within the first five years of purchase.
Currently, state law provides that gift cards cannot be assessed as a monthly service charge against the balance until two years or the 25th.e months of inactivity. Beginning in December 2022, with few exceptions, state law will eliminate fees and expiration dates for gift cards.
New York requires companies offering discounts to disclose whether they will be issued in the form of a gift card and whether fees will apply to those cards. Rebate cards are not all covered by the same rules as regular gift cards, so this disclosure helps consumers identify the different cards and how they can be used.
Gift cards may have other terms and conditions which may decrease in value. These may include:
Service charge when purchasing the card;
Dormancy fees if the gift card is not used within a certain period;
Charges for calling and checking the remaining balance on the card; and
Replacement fees for lost or stolen gift cards.
The DiNapoli office currently holds more than $ 17 billion in unclaimed funds. He urges New Yorkers to visit www.osc.state.ny.us to see if they are owed any money.
---
Track state and local government spending at Open Book New York. As part of State Comptroller DiNapoli's open data initiative, search millions of state and local government financial records, track state contracts, and find the most requested data.