Lady M Glowing Lights Mooncake Gift Set Review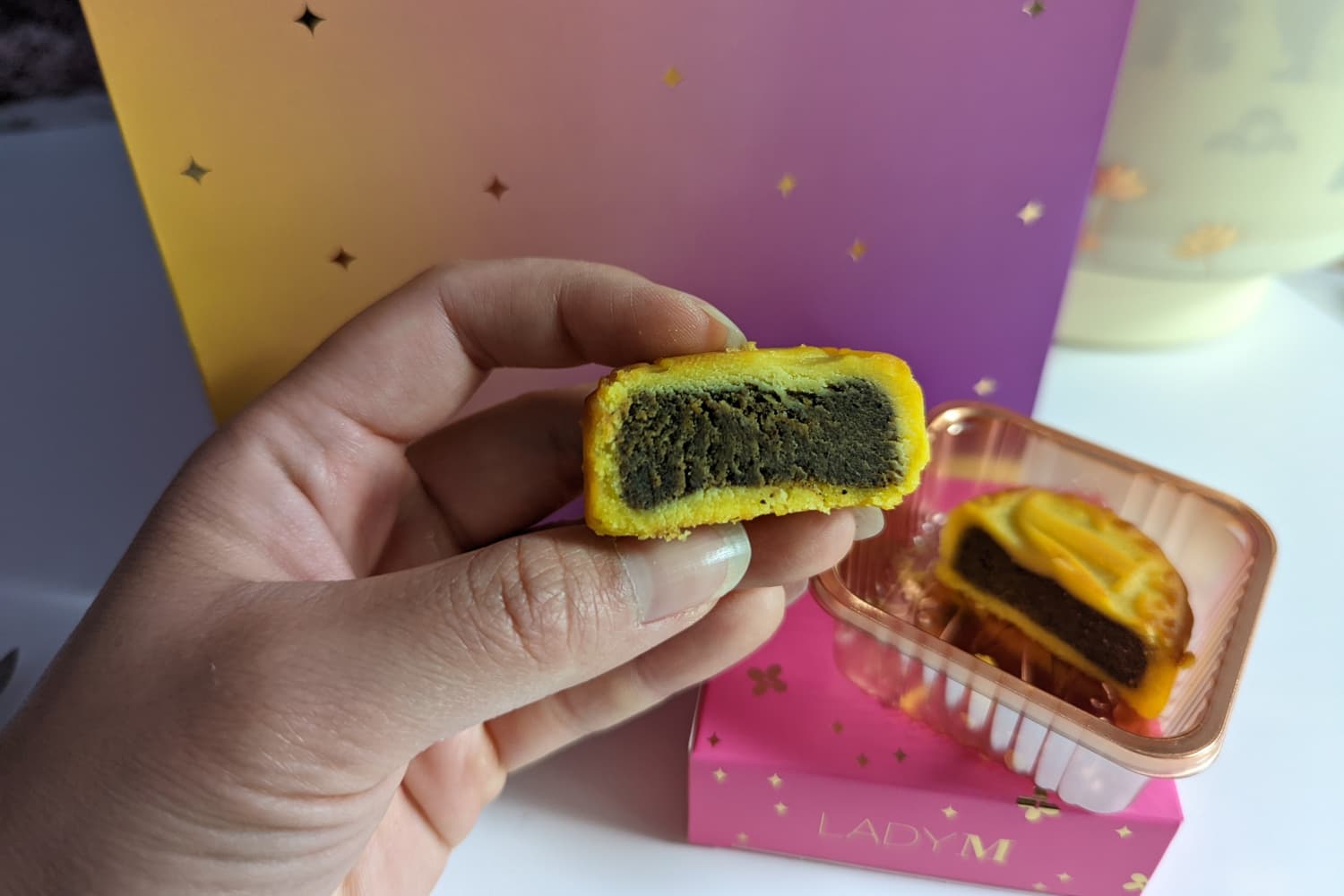 published about 7 hours ago
We select these products independently. If you buy from one of our links, we may earn a commission. All prices were correct at the time of publication.
I'm just gonna come out and say it: I don't like mooncakes. In my opinion, traditional Cantonese-style mooncakes are dry and crumbly, and a bit too dense and rich for my taste. And I'm not alone: ​​Last year, nearly 3 million mooncakes were launched by families living in Hong Kong. Yet mooncake is one of the most iconic baked goods of my ancestral culture.
During the Mid-Autumn Festival, the second most important festival celebrated by the Chinese, you are expected to trade these richly stamped and expensive baked delicacies with your family members and friends. Not sharing mooncake is like going all Christmas without unwrapping a single present. It's just not the holidays without it.
Then last year, everything changed when I tried Lady M's seasonal mooncakes. The luxury confectionery famous for its signature Mille Crepes cakes collaborated with Hong Kong's legendary Kee Wah Bakery, the cake specialist of the bride and the moon cake par excellence. The result was a world away from what I grew up with. Since then I can't wait to see the dan tat again (egg tart)–adjacent and flavors of cocoa dust again.
What's so great about the Lady M Glowing Lights Mooncake Gift Set?
To my surprise, this year's unveiling revealed that the duo had turned things around this year. Instead of the tried-and-true vanilla-chocolate combo, Lady M and Kee Wah Bakery offered a trifecta of flavors: Coffee Caramel, Earl Grey, and Purple Yam Custard. Interesting – and not at all what I expected.
I opened the box to pull out a beautiful butter-colored bucket lantern with a gold metal bucket handle and a rabbit symbolizing the Mid-Autumn Festival. The lantern was printed with metallic foil designs, and with the flick of a switch it lit up in hues of yellow, fuchsia, chartreuse, tangerine and purple, revealing a secret hilltop scene with temples, Huangshan pines and, of course, gatherings of fuzzy rabbits.
Inside the lantern is a neatly stacked collection of boxes. Each contains a perfectly shaped, plastic-wrapped mooncake in a rose gold tray. The cakes themselves were as beautiful as their presentation.
I first tried the Earl Grey. Like any moon cake, there is a density, but those of Lady M have more lightness than the traditional ones. The cake was moist, chewy and a little powdery as it crumbled in my mouth. The bergamot was nicely understated and the tea's signature flavor was milder than I expected – like washing down custard with a sip of fresh milk tea from a Chinese bakery.
Next is the Purple Yam Custard in, of course, the purple boxes. It looks more exciting than the others, with its semi-opaque shell hinting at the purple interior. But overall, it's more comforting than anything else. There is a warm flavor, like sweet potato pie but with less spice and more butter, which feels like a continuation of the mooncake pastry shell.
I saved the yellow-boxed Caramel Coffee Mooncake for last, expecting it to be my favorite. It did not disappoint. The flavor starts out sweet, but then the coffee creeps in with an almost chocolatey earth. It was better than I had even hoped for, reminding me to bite into a fluffy bo lo bao (pineapple bun) and wash it down with the extra strong milky coffee served at my favorite Hong Kong-style bakery in Flushing, NY.
Available now while supplies last, these mooncakes aren't just meant to be given as token, obligatory gifts – they're meant to be shared and enjoyed. The flavors are fun and new enough that kids, adults, and even non-mooncake lovers will want to try them. And the presentation is one that cannot fail to bring joy.
It should be noted that the excessive packaging materials used in Chinese gifts have become problematic for several groups. But my ecological conscience agrees with Lady M's creations; they are so beautiful that they do not go in the trash. They are on display, allowing me to savor the memory of the only mooncakes I have ever enjoyed.
Have you tried these mooncakes from Lady M? Tell us about it in the comments below.